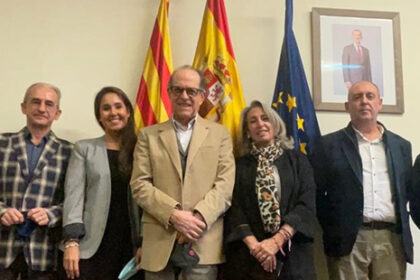 The Federation of the Audiovisual and Events Industry (FIAVE) and PIMEC have recently transferred the concerns of the audiovisual producers sector to the Ministry of Culture and Sports.
During a meeting with Joan Francesc Marco, adviser to the cabinet of the Minister of Culture and Sports, the employers' association and the federation have requested measures to boost the competitiveness of the sector and reactivate its activity, and have highlighted its importance in the economic and social fields.
On the part of FIAVE, Begoña Cordero, general secretary, Paula Jiménez, legal advisor, the members Pere Albiñana and Joan Carles Martin and David Espiau, advisor to ANITEC, while on the part of PIMEC, its general secretary, Josep Ginesta. All of them have highlighted some of the current concerns of the sector, such as the economic classification, and labor and social security framing aspects of the personnel who provide services for companies in our activity sector. In addition, they have made an analysis of the situation of companies specialized in the rental, supply and installation of professional audiovisual equipment and services for events, highly affected by the effects of the pandemic.
In the framework of the meeting, different commitments have been established, such as the will to offer a direct dialogue with those responsible for the development of the Artist Statute to transfer the problem of the scope of application of said Statute in relation to the activities carried out by companies in the sector and of the technicians who provide services for them, the possibilities of their real fit in said regulations and the treatment of intermittency and seasonality as characteristics of this sector of activity.
Also within the framework of the meeting, the concerns of the sector and the intention of transferring to the Minister of Culture and Sports a report on the need to update the economic classification of CNAE in order to create a heading that encompasses the activity of companies in our sector.