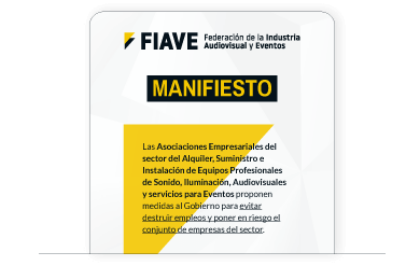 The Federation of the Audiovisual and Events Industry (FIAVE), which groups business organizations and professionals from the entertainment industry sector at the state and regional level, requests the government to adopt urgent measures that allow the survival of the sector.
FIAVE demands, through a manifesto, a set of 23 urgent measures in the labor, fiscal, tributary and financial spheres that guarantee the conditions for the survival of the companies of the entertainment industry and of the events that are being seriously affected by the COVID-19 crisis.
Until now, this sector, made up of thousands of companies and self-employed professionals, has been left out of the aid that would allow its survival, where the industrial stoppage of the activity is assuming a huge economic cost, dragging with it a multitude of direct and indirect jobs. In this sense, the document presented insists that this sector be considered a priority for the country's economy and claims to rescue or help the business fabric of our country, which is dedicated to the production of events and shows, essential for any event to materialize by providing infrastructure and professional service.
The entities that make up FIAVE have come together to make their serious situation public and at the same time ask the Government for much more rigor and commitment to the audiovisual sector, transferring a set of measures that would truly prevent the destruction of many companies and jobs in this industry. "The set of these associations represents more than 500 small and medium-sized companies, which together with hundreds of other companies in the sector, are currently unable to carry out their economic activity as a result of the crisis caused by COVID-19. ", Points out Francisco Bustamante León, President of FIAVE.